It's that time of year again to get ready for summer camping. Whether your going alone, with friends,or family,you have got to have the right gear you need. What you bring depends on a lot of factors. Location and climate play a roll. Always prepare for rain and cold weather even in the summer while camping. So bring rain gear and cold weather clothes. A tarp isn't a bad idea either ,it can be used as shade or a rain shelter to cook under etc. The amount of people who are going does affect how much and what you bring. Pets also need gear too. Car camping let's you bring more gear of course than if you were backpacking your gear into a site via a trail. Any recreational activities being enjoyed also determine what gear to have. A kayak or fishing pole may be on the list to take with you. So I have devised a list of basics and a few cool items to take with you on your next trip into the outdoors.
1. A tent. Pick a tent that fits the number of people you plan on having in your tent with you. I always get one a little bigger than my headcount in my family to have some storage .

This Sundome 6 Person Tent
 is the one I have for my family and I. We really like it and we are happy with the quality of Coleman tents. Ours has lasted for several years now. If you need a smaller tent they have a Coleman Sundome 2-Person Dome Tent
  which is smaller but also works well if your hiking.  For those big families that all want to sleep together you need an 8 to 12 man tent like the Ozark Trail 21′ x 10′ 3-Room Instant Tent with Awning, Sleeps 12, Red

Ozark Trail is Walmart's brand. It is great quality at a low price. I have a 2 person Ozark Trail tent I use for backpacking that I love.
2. A good sun canopy is great to have. You can use this to cook under if it rains if you have to.  A canopy has saved several of my trips in the past. They are also great to rest at the end of the day under and have a cold drink in the shade. The Trademark Innovations Lightweight and Portable 10'x10′ Canopy Tent
 Is affordable and available in several colors.
3.Sleeping bags vary on climate and user preferences. Coleman,Tetonsport,and Kelty  make quality bags at reasonable prices compared to other high end bags. My wife uses the Coleman Brazos 75″ x 33″ Rectangle Sleeping Bag Navy/Beige 2000004419
 its a 30 degree bag and works well in the mountains in the summer.


Coleman Heritage 84″ x 40″ Rectangle Sleeping Bag Navy 2000008710
 This bag is a bigger bag for tall or wider people like me. I really like Coleman bags ,Lanterns and tents. They have been a family tradition for me since I was a kid.
3. A sleeping pad or an air mattress really makes the night more comfortable both in warmth and hardness on the back and neck. The INTEX Pillow Rest Classic Full Bed Inflatable Airbed Air Mattress w/ Pump
 is a brand I use and is affordable and has lasted me for several years.If your backpacking or just want a pad rather a mattress the ALPS mountaineering pad is great. Pads are expensive and range how light you want one to carry.


ALPS Mountaineering Summit Sleeping Pad – Regular

4. A pillow. Bring one you don't mind getting abused. I like to use a flannel pillow case.
5. A multitool like the LEATHERMAN 832132 Multi-Tool, Silver, 12 Tools
 can handle all sorts of projects around camp or on the trail. I even take mine fishing with me.
6. A knife. I usually bring several with me camping for different needs. The Morakniv Clipper 840 Knife – Straight Edge, Fixed Blade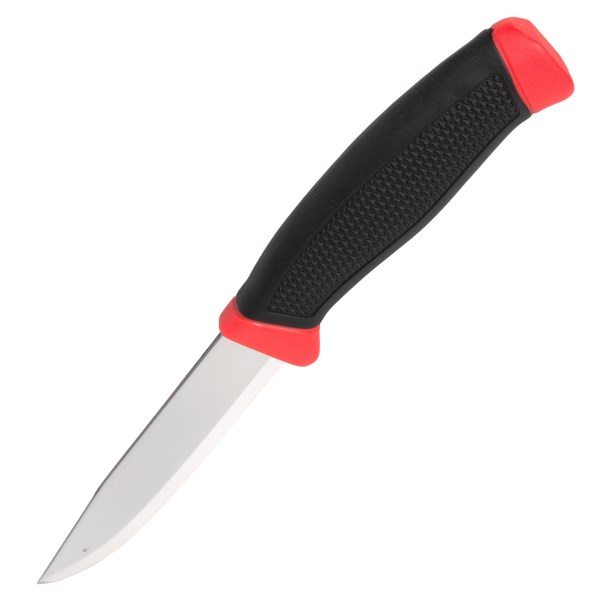 This is a great knife for bushcraft meaning ,doing things around camp. The Mora knife is from sweden and was made as far back as the 1800's. It is used by their military still today. The carbon steel blade can be used with a flint to start a campfire. I also bring a big survival knife ,which is military issue, for large jobs and protection. K-bar has been making combat knives forever.The United States Marines recognize a superior knife when they see one. The Ka-Bar USMC Serrated Edge Knife 5018

And lastly I bring a good fillet knife for preparing the fish only. Keep your knife sharp at all times. This knife comes with a sharpener which makes it easy.


7. A good axe is needed  to chop kindling for the campfire and do other tasks around camp.This axe really gets the job done. Condor makes excellent knives and axes. Especially primitive bushcraft knives.
8. A backpack. Whether you need a daypack for short walks around the lake or a 55 liter hiking pack,High Sierra has got you covered. They make quality packs at low cost.

9. A camp chair. I have a nice big guy chair that I love. I was tired of the other chairs I had that were uncomfortable.Coleman in general makes good quality chairs.


10.Headlamps and flashlights. A good headlamp like the Coleman 2000021027 Axis HP LED HeadLamp
keeps it bright while you do chores or hikes at night. As far as a flashlight ,I like Cree type lights ,the technology is brighter than LED lights and is compact. Lumintop has a great variety of lights to choose from.


And top of the line 800 lumen super bright cree light from Nitecore,it's more expensive but superior to all cree lights.


11.Lanterns. By far the Coleman lantern is the best propane lantern out there for camping. It is an icon of the outdoors. The propane lanterns are a lot brighter and last longer than battery powered lanterns. The propane bottles can be interchanged with the Coleman camp stove as well. This one has a nice carrying case. Also bring extra mantles.


12.Water filter and water tablets. The Sawyer water filter is the one I have and I've drank river water for a week while hiking and love it. Sawyer makes a great product at inexpensive prices compared to other filter systems.


13.A stove.  A great camping stove like the Coleman 2 Burner Triton Series Stove 2000012034
gets things cooked fast. It has two burners to do the job. A Coleman griddle fits the stove perfect, to make pancakes and other delicacies. The one I've had for years has done the job well.Don't forget extra propane bottles and matches.
14.Camp fire grill. I use the Camp Chef Lumberjack Over the Fire Grill
to cook meals in my skillet or grill meat.It folds up easy to take with you. I like to wrap mine in a trash bag so I don't make a mess in the car while traveling.


15. A skillet,pots,and pans. My Camp Chef 20″ Lumberjack Skillet
really is nice and home cooked meals in camp. An iron skillet lasts forever. Remember to not clean it with soap you can use sand or salt and water to clean it with a scrubber. I also preseason it each time after cleaning with cooking spray and heating it up on the camp stove.
16.A Dutch oven is another great method of camp cooking. It is like a camping crockpot. The Camp Chef 10″ Deep Dutch Oven
I have ,I really like and I make all kinds of recipes in it. Cookbooks are available for Dutch oven cooking like this book I have; The Wilderness Guide to Dutch Oven Cooking
. Follow the same process to clean and season just as the skillet. And don't forget your food ,and drinks your going to bring. Put that on a separate list.
17.Kitchen accessories like paper towels ,cutting board,cooking utensils,ziplock bags, aluminum foil,a can opener/corkscrew,pot scrubber and camp soap are good to have in camp.A good coffee pot is absolute like the Stansport STN11230B Enamel 8-cup Coffee Pot With Percolator & Four 12-ounce Mugs
 . Splurge a little and bring some starbucks ground coffee. Nothing like a cup of joe lakeside.
A cooler is another item necessary on the outing. I bought a Coleman 54-Quart Steel Cooler
and I love it.The cooler is made out of steel belted radial tire material and it keeps the ice cold for 5 days. I have had it for 7 years and nothing is broken,The thing is tough. Mine is stainless ,but they come in several colors all steel. All you need is the Ice.


18.A camping table set is an awesome thing to have. Everything you need to eat with is all there for the entire family. Both Stansport and Coleman make a great set. The enamel stone finish is tough.


19.Personal items like toilet paper,shampoo,toothbrush and paste,lip balm,sunscreen and insect repellant are just a few items to take.Don't forget any medications you may need.A good first aid kit is essential to any outdoor adventure.


20. A camera or camcorder works ,most people use their phones nowadays.
21.Binoculars come in handy in the outdoors.Get a good pair and you won't be sorry. They can be used to enjoy the beautiful scenery or view wildlife.


22. Maps,guidebooks,magazines and books are nice to take along.A notebook ,pen and pencil are nice to write memoirs. A sketchpad is a great idea,to draw the surroundings. Don't leave your camping reservations at home either.
23.Pet needs. Pets have to have things too like toys,pet bed,food,a leash Maybe a stake ,and water.
24.A good radio to listen to music or the weather conditions is a sound idea.
25.If you have kids then you might want to invest in these.I have them and they work great to keep in contact with my son while he plays close to camp.


Motorola MS350R – 35 Mile Range Talkabout 2-Way Radios, PAIR
26. A deck of cards,games,water toys,kites,and a hacky sack bring enjoyment to camp.There is nothing like a good hack and a cold drink at the end of the day.

Hacky Sack – Alie (Colors Will Vary)
n
At night a star gaze map,hot cocoa, glowsticks for the kids,and S'mores really are a big hit.Don't forget a coat hanger or a marshmallow roasting stick.
27.Clothes and footwear. Remember to always bring warm clothes and rain gear to the mountains even in the summer.A good jacket will keep you warm at night.


A good sweater or sweatshirt is also a great idea. Bring pants and shorts,but don't forget the swimwear. Wool socks are a good choice even in the summer they work fine. I wear Long underwear at night to sleep warm. A good hat is hard to beat. Ballcaps work great. A beanie also keeps you warm at night. I love my boonie,it keeps the sun off me.


Fishing Hunting Bucket Hat Boonie Outdoor Cap Washed Cotton Military Safari Summer Men – Land Camouflage

Footwear is a personal choice, but I prefer hiking shoes. They protect my feet and give me a good footing on the rugged terrain.  Merrell makes great footwear and is lower in price than other great brands.


I also bring a solid pair of outdoor sandals. They do me just fine. They are great around the water and I've even worn them swimming.


28. Recreational items are needed depending on the type of activities your going to enjoy on your trip. I always bring Fishing gear when I go camping.Walmart seems to have the best prices on fishing poles and tackle. I rarely spend over $30 for a rod and reel and I catch just as much fish as the guy next to me with the $200 set up. Don't forget the powerbait and lures.


Daiwa D-Shock 2-Piece Spinning Combo 7′ DSK30-2B/F702M

29. Kayaks and Canoes are a great way to explore the water while on a trip. Walmart has nice kayaks at low prices that won't cost $800 plus out of your wallet.Remember to always wear a life jacket.
Lifetime, 9'8″, 1-Man Boyd Sit-Inside Kayak, Yellow, with Bonus Padded Seat Back

30. Mountain bikes are also popular in the outdoors. There is nothing like zipping around the trails on a bike in the woods. Take a backpack along and a water bottle. Don't forget to wear a helmet.


26″ Mongoose Men's Maxim Mountain Bike, Green

So whether your going a week ,or going a weekend you have to make a checklist to see what you have and what you need. Don't be unprepared in the outdoors. Put things together early and you'll be glad you did. Your next journey outdoors awaits. Until next time here at Campingandfishing.org.